Magearna is the newest Pokemon with the formidible type of Steel/Fairy
Magearna is also an Ancient Superweapon created 500 Years Ago, And is also an MLG Pro. On May 28 It Happened So Suddenly. The Foxy Ballpit Incide- No wait that wasn't it… The Great Mech War. This was when Magearna was escorted away from the scientist who created her. All the sudden, a great explosion happened, Magearna being the only Being to Survive, Having gained Awesome Soul Powers due to the fallout. She Is now an Animatronic at Breadbear's Pepperoneri.
PERSONALITY
Magearna is most friendly, but if someone seriously ingures/defeats one of her friends, She will do anything to avenge them/Save them. Even if it means Destroying the opponent.
LIKES
Funposting at 2 AM in the morning
Rickrolling EVERYONE in the chat
Bombs
Lasers
High Quality Rips
Throwing

Aubergine Man (Dave)

 into the Grand Canyon
Prankster Gangster Nation
DISLIKES
Old Memes
Clinton Campaign

Dave
ABSOUTELY HATES
Dave

Dave's Guts

Dave's Face

You get the point by now.
FRIENDS
Pidley
Northy
Kraig
Grand Dad
Golden Freddy
Funtime Freddy
Lolbit
Breadbear
Phone Guy (Scott)
Raptor
Malohn
Optimus Prime
Pink Sheep
Homie Dolphin
Direct Doggo
Volcanion (Best Friends. He's also part of the Prankster Gangster Nation.)

Toucan Sam
ENIMIES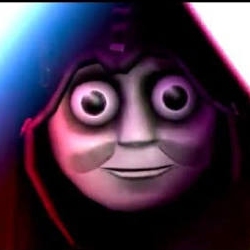 The Rats (Meaning she is enemies with Tacos Raticate)
NEUTRAL
Old Sport (Depends on what "In The Weekend 6" Ending you get. If you sided with

Dave

, then she hates your guts. If you want to save the kiddins, she will be friendly towards you.)
APPEARANCES
SPOILER WARNING FOR IN THE WEEKEND 6!
Magearna is the Genocide Route Final Boss of In The Weekend 6. (Genocide Route is when you choose to side with Dave.) (This is her theme. Click HERE to listen. I just looked up some cool-sounding and fitting music. I paid 7 Grand Dad Coins to post this crud BOI.))
SPOILERS ENDED!
QUOTES
"By the way, Dying is against the rules. YOU'RE FIRED." (Happens after Magearna Pwns you, then The Poopet causes a Springlock Failure to your suit in "In The Weekend 6", Triggers the Springlocks Ending. Yes, Apparently Magearna can Fire you.)
"Aubergine Man! MY ARCH NEMESIS!"
"This whole birthday party was a sting operation to lure you out into the open."
"We can stop this before it happens. we can SAVE THEM." (Triggers a cutscene where Aubergine man gets pwned by Magearna and Poopet causes a springlock failure. This is one of the good endings known as the "Premature Ending" where Aubergine man becomes Springtrap.)
"(Player Name), You take on Farfour and Freddy. I'll take on Withered Breadbear and Foxy, Scott, You take on Ceeka and Withered Ceeka, Fredbear, You take on Bonnie and Bonnet."
"Looks like now, we're just 2 Unemployed Guys and an Ancient Superweapon roaming around Western America."
"DAVE, I SWEAR TO GOD!!!"